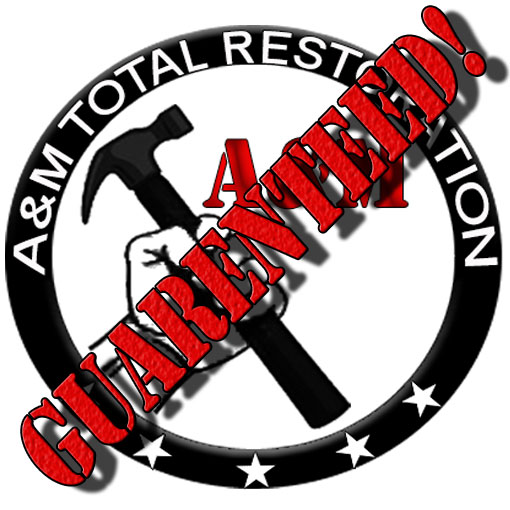 Warranties
A&M Total Restoration is proud to stand behind its employee's skills and experience. All construction and restoration work is under warranty and we guarantee your satisfaction. A&M Total Restoration begins every project with a full assessment. We then create a thorough plan of action to include everything needed to assist our clients in reaching their project goals.
Your satisfaction is priority one at A&M Total Restoration. This is why we use the highest quality materials and inspect every job throughout your project to confirm that the best standards are followed at all times. Using our certified and licensed employees we make sure that your commercial, residential or industrial project is completed in a timely manner and to fulfill your expectations as a property owner.
A&M Total Restoration gives our full promise and guarantee to maintain clear and concise communication throughout the process of completing your project and to further discuss inspection results and damage assessments thoroughly upon request while your project is being completed. It is our firm belief at A&M Total Restoration that the client comes first.
A&M Total Restoration's competent and knowledgeable staff is available to answer any and all questions that you may have regarding your project and we welcome feedback from our customers both during and after your project. You can contact A&M Total Restoration at any time with concerns or additional requests that you would like to add on to your project at any time.
A&M Total Restoration stays up-to-date on all industry standards for all provided services of our company to guarantee that your best interests as a customer are always met. We are committed as a team to completing every particular detail of our clients projects are completed to the client's requests and with the best pricing possible. Should you as a client ever have a question or concern it will be addressed swiftly and thoroughly to your gratification.
A&M Total Restoration is a proud member of the Better Business Bureau.